Using It, Still Losing It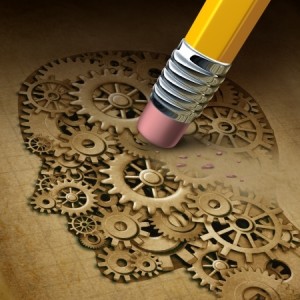 So here's the background. When home computers first became available, I was smitten. (Yes, children, there was time when personal computing was but a glint in Knot's beady little eye.) Wow! I could do amazing things, I could write a program in BASIC to balance my checkbook!
A few years later I was in a fellow grad student's lab in the biology department of the university in Los Angeles, and he showed me how he had this new thing on his computer where he could exchange data with a computer in Washington D.C.! And he had a stylus that he moved around on a special flat surface and he showed me how to used it. I could move the computer cursor with a magic wand!
Another few years and I was working in a high-tech company started by a couple of physicists that developed and produced collimators. They had an astonishing program on one of the engineer's computers that could send telexes without the telex machine! I was the only non-engineer allowed to use it.
I was paddling around in a sea of tech-ish delight. I never took courses, but I learned on my own and by watching people who knew what they were doing. In the 1990s and 2000s I was very competent with both hardware and software. My hobby brought me to the little niche of providing computer advice to nuns around the country, sometimes visiting their convents to set up networks and solve their connectivity issues. I even wrote a database management app in MS Access that handled the medical, psycho-social and educational records of the children in a residential facility for severely brain-damaged children that is still in use today.
In short, I spent the first four decades or so of personal computing developing "mad skillz" in everything informatic. But, as Bobby and Shirley Womack wrote and the Rolling Stones and others sang, "It's all over now." (The image breaks down quickly unless you consider informatics my cheating girlfriend, but never mind.)
Yesterday I decided to start in on digitalizing my household records of the past seven years. I got one of my helpers to work with me on the project. The idea was to scan everything into searchable files and save them on my hard drive with backups everywhere on God's green earth and above it (I'm not a fool), then shred the paper. Save space in the house, be able to produce old documents on demand, making it easier for me now and for whoever needs to sort out my affairs when I die. Not a big deal, right? Easy peasy, right?
Not exactly. I forgot how my home scanner settings work. I forgot how to scan to a pdf instead of a jpg or bmp. I forgot how to make new sub-directories. I forgot the quick way to rename a file. I got confused in the middle and forgot what we were doing. I was a touch past the brink of tears. My helper became frustrated with me and started bossily telling me how to do things her way.
I saw my not-too-distant future and I was deeply saddened alongside my intense frustration. This was undeniable evidence of my slowly increasing cognitive impairment. (Like just now, for example, when I couldn't remember the phrase "cognitive impairment" and had to google around a bit, trying lots of different words until I found it.)
My neurologist and GP don't believe me. (I am getting really tired of singing that song, but it's not the subject of this post.) The MMST* administered by my neurologist didn't really show anything, but acing the MMST doesn't require very high functioning. The fact that I had to stop my work as a translator after having achieved a certain status in my niche field doesn't seem to count. The frustration that brings me to tears is not significant to them.
A few people, including one of my doctors, have told me that if your pre-impairment baseline was higher than average then your impairment is an average person's usual functioning. They intend for that to comfort me. It does not.
I am trying to reframe what is happening to me as an opportunity to cast off my intellect-dependent self-image and identity and turn to other qualities to define myself: emotions, empathy, perseverance, endurance, generosity, kindness, and so on. So far, it's not working.
---

* The Mini Mental Status Test.
Image copyright:  Andrea Danti