Spoiler Alert: I'm still alive.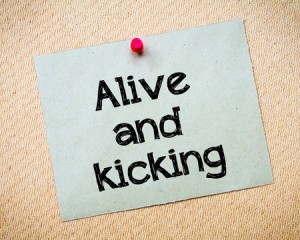 Like so many other people I have had a challenging life, but as hard as the universe seems to be trying to kill me sometimes, I'm still alive. I'll leave out the iffy moments in my childhood and go straight to my adult adventures.
There was the time in Northern California that I was driving my beautiful canary yellow 1959 Chevy Malibu and did not have a seat belt on. I crashed into a redwood tree. The front of the car accordionned and the steering column went right through the back of the driver's seat. I was tossed sideways into the front passenger seat. Ended up with a mild concussion and a bruised chest.
I was also driving when I was in the worst accident of my life. Four people died in that accident. I was thrown free of the car and suffered minor physical injuries. The psychological damage was much greater and I'd rather not go into it. The point here is that I was the only one of the five people in the car who survived.
One more car accident. I was a passenger this time, riding near the Israel-Jordan border. The car overturned a couple of times I think. My memory of the accident is fuzzy (the head injury was a bit more serious than the one in California), but I know that again my injuries were relatively minor and I was discharged to home after getting my cuts stitched and being observed for about 24 hours.
Not exactly a car accident, but still involving a motor vehicle, the bomb on the bus. I wrote about it extensively in earlier posts, so I'll just give the rough outline. The bomb was under the driver's seat and I was seated on the second bench behind him. The driver heroically managed to park the disabled bus at the side of the highway. I was injured but not critically.
In terms of stationary inanimate objects trying to kill me, there was the time the ceiling of my apartment in a century-old stone house fell down on me. I got a twisted ankle while clearing the rubble in front of me to get out.
What else? Oh, right. There was the time that idiotic doctor ordered intravenous penicillin and the idiotic nurse gave it – even though there was a big red drug sensitivity sticker on the front of my chart. (This was before EMR, children.) I suppose if you have to have anaphylactic shock, a hospital is the best place for it.
Then cancer
And so forth and so on. You get the idea. Let's skip forward to cancer because when the universe wants to kill you and is getting frustrated, cancer is the next step.
When I was first diagnosed, I was told old bromides like "if you have to get cancer, breast cancer is a good one to have". (Okay, but why did I "have" to get it?) The pathology report on my primary tumor came back "mostly DCIS" and my doctors were vying with one another in telling me how good that was. "If you have to get breast cancer, this is the good kind." (Oh goody.)
Within a year, we now know, the part that was invasive and not in situ would do what invasive ductal carcinoma does. It began to invade. It was just lymph nodes and bones, and after some very difficult treatment it was just in my bones. More difficult treatment and it was still in those bones plus some others. After some more time there was a suspicion that it was in the top of my skull, but those lytic lesions were finally diagnosed as venous lakes (which is a great stripper name and a no-big-deal radiological finding). That diagnosis was later corrected: oops, sorry – they are osteolytic mets after all. Sorry about that. At my last scans the mets were in my spine, a couple of ribs, my sternum and my skull.
Not very long after that diagnosis I decided to stop receiving treatment. There were a number of factors involved in my decision. I was sick and tired of my oncologist and we had a final falling out. All this time and all these horrendous chemotherapy side effects had enormously affected my quality of life. Finally, people generally don't die of bone mets alone. So I decided to stop treatment.
I fully expected to die within a year or two. Boy was I surprised! Turns out my cancer, while not stable, is very slowly progressing. I'm assuming that the fact that it's estrogen-positive and I am post-menopausal is probably a factor.
Whatever the reason, I'm still alive. Stopping treatment was the right decision for me. My activities are still pretty limited because of fatigue, pain, and a permanently impaired immune system, but at least I don't have to deal with the side effects of chemotherapy. I know that situations and circumstances are dynamic and I am fully prepared to revisit my situation should things change.
For the time being, though, I am enjoying the life I have and living as large as I can. Take that, universe!
---
"Alive and Kicking" image copyright Constantin Stanciu
Scanning electron micrograph of breast cancer cell by unknown photographer [public domain], via Wikimedia Commons.