Cancer Gratitudes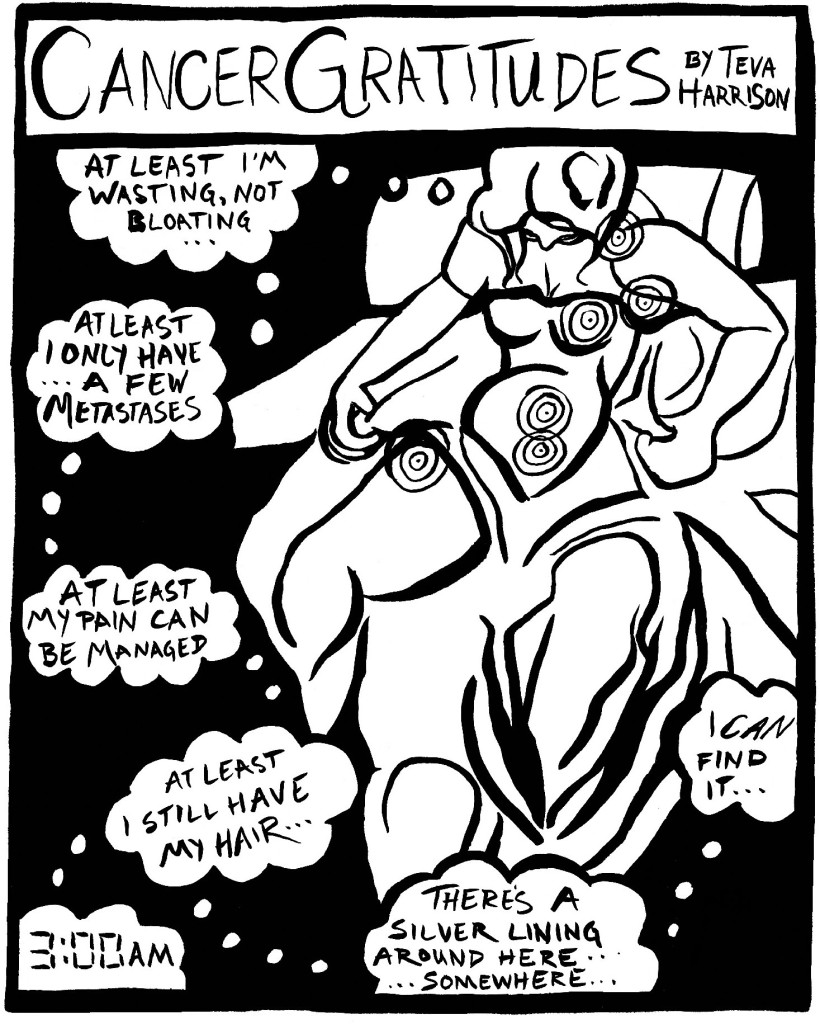 A few of my thoughts
You know how we say that something resonates with us? The word literally means that it reverberates, creates an echo in us. That is how I felt when the moment I saw this absolutely spot-on cartoon by Teva Harrison. I felt that it was ping-ponging around inside me, ricocheting with support and understanding. When someone expresses my feelings so exactly, it creates a moment of intense communion. I feel as though our souls meet, touch, move on. I am honored and delighted that Teva allowed me to post it here.
Teva Harrison describes herself as "an ad hoc arts operative… an equal-opportunity maker living in Toronto. She's in love with the natural world & fascinated by the spaces between (people, places, & ideas), & the way technology is changing our relationships. Her drawings are freeform explorations of evolving ideas. Teva's ongoing graphic memoir explores everything from her magic-filled hippie childhood to what it means to live with metastatic breast cancer."
What particularly struck me was Teva's articulation of "cancer gratitudes" as a list of "at least" statements.
"At least…"
I think it must be human nature to look for something, anything, to break up the unrelieved burden of certain dire situations.
* Our house was destroyed, but at least we all got out alive.
* They took all my money, but at least they didn't hurt me.
* I am hungry, but at least I have a roof over my head.
* I have no home, but at least I have a friend.
* …at least the children are safe.
* …at least the gas lines didn't explode.
* …at least I have my health.
That seems to be the bottom line in dire situations: at least I have my health. But it's not, really. Because when we no longer have our health what happens? We find new bottom lines. Mine is I have advanced, metastatic cancer but at least it's still only in my bones, and also, …but at least I live in a country with excellent, accessible, almost free health care. For someone else it might be …at least I have a supportive family or …at least I can get a disability pension.
Once, during an online conversation with several other people with metastatic breast cancer, several of us were saying things like, "I only have bone mets. I can't imagine what it's like for you, with liver mets." Others were saying, "I have brain mets, but it doesn't hurt. I don't know how you guys with bone mets live with the pain," and "I live alone and have to take care of myself, but at least don't have to take care of small children. How do you manage?"
Everyone seems to have an "at least". Teva calls it the silver lining. Some people call it making a gratitude list or counting your blessings or shifting your focus. Whatever you call it, it seems to be a natural reaction for many people and a helpful one even for people (like me!) for whom it doesn't come easily.
Do you have an "at least"? What is it?
---
Image copyright: Teva Harrison Be sure to check out her graphic memoir and blog at tevaharrison.com.