Ending Treatment: A guest post by Sherri Fillipo
Sherri Fillipo is a now-retired registered nurse. On her blog she writes "This is my story – living and dying with metastatic breast cancer. Once a nurse and now a patient, I love how seaglass captures what cancer has done for me
– softened and rounded my hard edges. Like the sea does to glass…" This post appeared on her blog on the 16th of April, and I am very pleased to have received Sherri's permission to republish it here today.
Please welcome Sherri as she tells us about her difficult decision, and show her all the love we share at Telling Knots.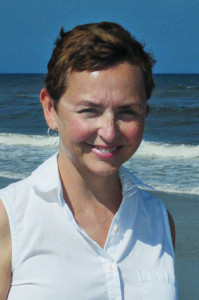 I had a face-to-face discussion on Tuesday with my dear physician. Let's just say I was too choked up to write about it until now. I can't describe how sad we both were. She is so genuine and so lovely and so kind. I tell you, I kept patting her knee telling her it was ok. When we both started crying, she jumped up to find a tissue box but alas there was none so there we sat crying into paper towels. Not a tissue to be found in that exam room.
What I told her is what I told you several blogs back –  that I was going to the beach and living without the shackles of cancer for the summer. No treatment, no scheduling my trip around chemo days. I was just going to give myself and my family all of my time and my energy. If the reduced chemo had been kinder to me, I might not have come to such conclusions but it hasn't been.
She said that she knew I understood what I was doing but she articulated it anyway:  the cancer would progress. I confirmed to her that I knew. What surprised me was that she said that she didn't have anything else to offer that wouldn't give me the same issues that I have been dealing with and that's when it hit me just exactly what I had done. I had closed the door. We just looked at each other and started crying again. She said, "I try to at least leave the room before I let a tear fall." I told her I was fine with her crying in front of me, that her genuiness  was what was so lovely about her.
At the end of the discussion, she asked if she could pray with me. She took my hands and patient and physician prayed and cried. We hugged and said good-bye.