Not Good Enough by Shelley St. Godard
2014 marks my 19th Pinktober.  In 1996 the "Pink Ribbon Culture" was in its' infancy, everyone climbed on board.  In addition to Walks and Runs "For the Cure" an entire cottage industry grew. Pink Ribbon pins, bracelets, and a plethora of other stuffs became available in the marketplace. Breast Cancer became big business.
18+ years later and is it still about breast cancer?  I think it's all about the multi-billion dollar industry surrounding THE PINK.  People have fun, dress up, and do all manner of foolish things in the name of donating for The Cure.  Most women with breast cancer (and likely no breasts) will tell you how horribly offended they are by "No Bra Day", "Save the Tata's", "Pink Tutu's", and Facebook games like "THE 2014 BREASTCANCER AWARENESS game". Yes, let's all have some fun because the general public, including women with lower stage breast cancer THINK THAT THERE IS A CURE! They're blissfully unaware: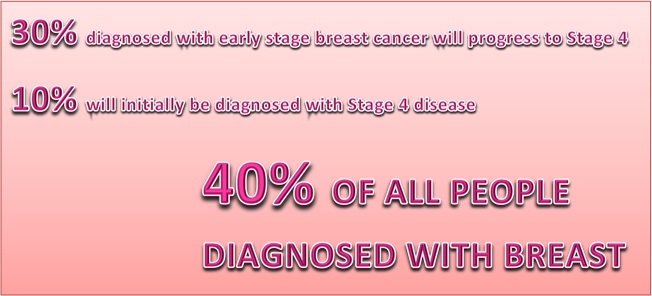 So where's The Cure?  While I've been living with the disease there have been advancements in available treatments.  Thanks for that and please don't judge me ungrateful when I tell you NOT GOOD ENOUGH.
Over the years, many of us diagnosed with breast cancer have been walking, running, campaigning, raising money for the Cure, and all the while SUFFERING.  Suffering through surgeries, chemotherapy, radiation treatments, anti-hormonals, lymphedema, and debilitating side effects caused by the drugs that keep us alive.  We WANT THE CURE NOW.  We've worked for it, suffered for it and paid for it in cold hard cash.  
Breast cancer used to be an old lady disease.  Not any more.  Young Women are dying, leaving small children Motherless. Why? Generally the disease is far more aggressive in young women.  I've made it 8+ years past my predicted Expiry Date. Today I'm 18 Months into a Stage 4 (metastasis) diagnosis that has an average prognosis (life expectancy) of 42 Months. Unless I get hit by a bus first.  In the US approximately 108 people per year are killed by being hit by a bus.  109 US women/men die from breast cancer EVERY DAY.  We really hate that 'hit by a bus' analogy.
This year, please THINK BEFORE YOU PINK. Not all organizations and businesses are entirely honest about their charitable breast cancer donations.
---
About Shelley: "She" (from "She who must be obeyed") has been living with breast cancer for over 18 years; two years with metastatic disease. An active advocate, She's mentored and assisted women navigating the system through breast cancer treatment for the past thirteen years. Currently approaching nine years past her "predicted expiry date" She's also an active member of a private stage 4 online group with nearly 900 members ranging from their 20's to 60's. Her mantra: "I refuse to let cancer take more from me than what it's taken without my permission."
Project Occupy Pinktober: Throughout the month of October 2014, I am bringing guest posts from people who have been touched by metastatic breast cancer. Breast cancer is not pink and fluffy; it is a killer disease. This is not about saving breasts; it's about saving lives. Thirty percent of everyone who gets breast cancer will develop metastasis. There is no cure. The goal of treatment is merely to prolong life and reduce suffering. We deserve better. Please like and share these posts to spread the word. Thank you, Knot Telling.