Pied Beauty
This post first appeared in November 2011, but the poem has been on my mind lately. I've been feeling bad about myself, thinking about how cancer and major injuries like the one I got in the bus bombing have left me with a distorted body and impaired physical and mental ability; feeling ugly and useless in my limited, somewhat isolated life. But this poem not only finds beauty in things that are "other"; it even praises God for making them. It reassures me that I have a place in the world just the way I am.
---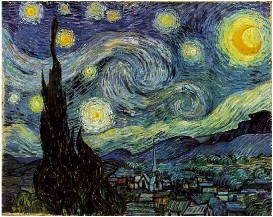 I've always been attracted to life on the margins. People and places and things that are out of the mainstream always seem more colorful to me, more interesting. Now, in the full glory of middle life, I have chosen a lifestyle that puts me on the margins of society. Some religious people might say that I am in the world, but not of it. Other people, not so generous, might say that I'm an odd bird who doesn't fly with the rest of the flock.
But society needs its marginal people, too. After all, it is the margins of a page that define it, give it form and beauty and importance, that contain it. When particularly impressed by something we read, we might make a note in the margin – a convenient place from which to observe and process what's going on in the mainstream.
It is in that spirit that I read Gerard Manley Hopkins's 1877 poem, "Pied Beauty".
Glory be to God for dappled things—
  For skies of couple-colour as a brinded cow;
    For rose-moles all in stipple upon trout that swim;
Fresh-firecoal chestnut-falls; finches' wings;
  Landscape plotted and pieced—fold, fallow, and plough;
        
    And áll trádes, their gear and tackle and trim.
All things counter, original, spare, strange;
  Whatever is fickle, freckled (who knows how?)
    With swift, slow; sweet, sour; adazzle, dim;
He fathers-forth whose beauty is past change:
        
                  Praise him.
What a fantastic phrase that is: "All things counter, original, spare, strange". These are words that are more often pejorative than not, but Hopkins is giving glory to his God for them.
I suppose poets are on the margins, too.