I Want More by Vickie Young Wen (Part II)
Project Occupy Pinktober: Throughout the month of October 2014, I am bringing guest posts from people who have been touched by metastatic breast cancer. Breast cancer is not pink and fluffy; it is a killer disease. This is not about saving breasts; it's about saving lives. Thirty percent of everyone who gets breast cancer will develop metastasis. There is no cure. The goal of treatment is merely to prolong life and reduce suffering. We deserve better. Please like and share these posts to spread the word. Thank you, Knot Telling
(Part I of this post is here.)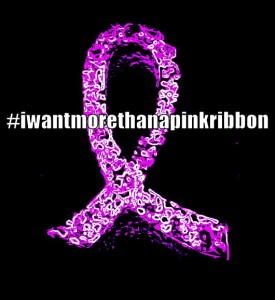 I was diagnosed with Stage IIIb breast cancer in February 2012, just before my 49th birthday. While being diagnosed with breast cancer wasn't a huge surprise (My mother died of breast cancer at age 52), I was shocked that the cancer was so advanced.  I did everything "right."  I had regular mammograms and I had regular ultrasounds. I did monthly self-breast-exams.  I had dense breasts that like to form cysts.  I got them all checked out.  And I still got breast cancer, long before the average age of diagnosis.
I was diagnosed with Stage IV metastatic breast cancer in January 2013.  I had a few short weeks where I was considered to be free of disease but even those weeks were affected by increasing pain in my neck from then unknown tumors in the bones there as I tried to rebuild my body after the trials of chemotherapy, surgery and radiation. It is suspected that I was Stage IV from the beginning, but that the distant lesions were too small to be seen at the beginning of this process. My Stage IV diagnosis showed cancer in every single one of my vertebrae, in both sides of my hips, in some ribs, and later on, new lesions formed in a hip socket. In May of this year, just as the Mother's Day races were happening, the cancer moved to my liver.
I didn't do anything wrong to develop Stage IV breast cancer.  And the opposite is true for you … you didn't do anything right.  As much as we'd like to think otherwise, we are not in control of how our bodies respond to treatment. 
These races are meant to encourage and to cheer … and I'm all for that … but they miss out on the reality that every hour of every day, four women die of this disease.  Look around you … look at all these women here … any of you can be one of those women in a future year.
I want more. I want more for you and I want more for me.
I want a cure.
I went to the website for my local branch of this well-known organization.  It is primarily a fund-raising site … lots of asking for money.  The statement is made that 75% of funds raised goes back to the local community, but I see no evidence of that other than these races. In fact, I found this statement on the website:  "Please note that the [local affiliate of national organization] does NOT provide medical services, medical advice, direct funding to individuals, nor do we make referrals."   What in the world do they do?
I visited the affiliate office to find out. I was told they provide grants to eleven local recipients (most of whom I had never heard of), all dealing with education, diagnosis, treatment & survivorship, screening services and treatment support.  When someone contacts them for information, the office will give them the list of grant recipients, along with phone numbers, for the person to contact themselves.  This keeps the local affiliate out of the referral business but directs the questioner to an organization that may more directly meet their needs.
I think this is great!  Community support is so needed all across the medical spectrum.  This is vital to a breast cancer patient and family members. As all of you know, you didn't go through your breast cancer journey alone.  That community is being celebrated here today!
Just don't call it "for a cure."
The website says that 25% of monies raised at events such as these goes to the national organization which, in turn, funds research.  Did you know that only "up to 25%" (It's closer to 16 – 18%) of the funds at the national level actually goes into research?
Let's say your fund raising efforts for today's race raised $100,000.  $25,000 of that would go to the national level and being generous, 25% of that, $6,250, will go to research.  That's right … only $6,250 of today's funds will actually go "for a cure."  Yet, "for a cure" is the major tag line used to describe the services of this organization.
I want more.
I want a cure.
Some might say that I'm just a bitter, old woman, upset with the lot in life that I've received.  To that I would say, "I'm not old."  I'm now 51. I am still younger than the average age of diagnosis, 62.
Bitter?  Most of the time, no.  Some of the time, yes.  At times like these?  Definitely. Like I said, your lives are worth celebrating and the occasional party is a great way to do so.
But don't do it at my expense.  Don't claim these events are "for a cure" when they are not.  They are primarily designed to make women feel good about being disease free.  They're designed to make women feel as if they have passed a rite of passage. I know that cancer has changed you … but is it enough?  Is what is happening today enough?
It's too late for me.  There will be no cure for me in my lifetime.  One day, perhaps my picture will show up at one of these events as one of the "fallen warriors."  (I should admit that I hate that term!) 
I'm living a daily miracle.  I'm alive and I believe I live my life with joy. Right now, the cancer is relatively stable.  However, I know this can change quickly and I can be gone from this side of eternity just as quickly.
I want more. 
I want a cure.
I want it for you.  I want it for me.  I want it for my daughter, who, now age 14, must live with the knowledge that her maternal grandmother died of breast cancer and that her mother will die of breast cancer.
Bitter?  No.  Realistic?  Yes.  I want so much more than pink parades declaring hope for all. 
I want a cure.
Of course you won't hear this speech at any rally.  This isn't what is celebrated at these events.  But, as I watched photos from around the country flood my social network's newsfeed on Mother's Day, I was filled with regret.  Regret that my mother would be 77 this year if she hadn't died of breast cancer 25 years ago.  Regret that my daughter will face future Mother's Days without her mom.  While I celebrate all my friends who are cancer-free, I just want the truth to be known.  These relays have little to do with a cure.
You see, I want more than a pink ribbon. I want so much more.
I want a cure.
I want a cure.
---
About Vickie: Vickie Young Wen has been living with breast cancer since her primary diagnosis in January 2012.  She is married with two teen children.  Her faith, family and friends carry utmost importance in her life.  She is an avid reader and is constantly learning.  She loves working with her hands – writing, knitting, cross-stitching and cooking, but she hates cleaning!  Her personal motto is to be grateful for each day and she claims each day as a daily miracle. To learn more about how to be involved in research, please go to Vickie's site, http://www.iwantmorethanapinkribbon.com.