Cancer Ninja by Holly Lamont
Project Occupy Pinktober: Throughout the month of October 2014, I am bringing guest posts from people who have been touched by metastatic breast cancer. Breast cancer is not pink and fluffy; it is a killer disease. This is not about saving breasts; it's about saving lives. Thirty percent of everyone who gets breast cancer will develop metastasis. There is no cure. The goal of treatment is merely to prolong life and reduce suffering. We deserve better. Please like and share these posts to spread the word. Thank you, Knot Telling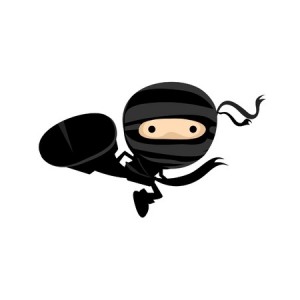 Life now.
It is September 2014. I wasn't expecting to be here where I am. I am here, 40, retired, in treatment for stage IV, metastatic breast cancer that continues to wreak havoc on my body. Just another day in the life of a cancer ninja.
I came up with the name when I was first diagnosed, back in April 2011. I was going to beat the crap out of this cancer. I could do anything because I was a going to survive this. I will wear pink, because that will help. I will buy pink ribbons like there is no tomorrow to show my support. I had no idea with stage IV meant, until I looked online. 2 years. That was the lifespan they give for mets girls. Well, I have lasted longer than that. Some of us last as long as statistics say, some less, many are more. It is God's will.
I believe I was given more time on this world to be able to spend time with my family and my son who is 5 and knows nothing but mom goes to the hospital a lot and has short hair, or no hair at times. I believe I was put here to be his mom, I do have a stepson and daughter and husband that I love dearly, but I feel God needs me to be here on this earth, a while longer to look after this precious boy. There are times when I have no energy to do the things he wants to do, but every night, we have snuggle time and that is the best time of my day.
I would like to take a minute to address October. If you are reading this, there is no need to take your bra off on October 13th, the day for metastatic breast cancer. Say a prayer for those of us with this disease. You don't have to wear pink, give to research that will give us hope that we can live more days on this earth.
People have become numb to pink. Oh, it's just that silly old breast cancer movement again. While we can see that awareness has helped the cause tremendously, it is time to move to research and curing this. Women are still dying. Young women, far too many women. There are how many children growing up without a mom because breast cancer stole the life of the mother that gave them life.
I know only God has the stop watch as to when I am to see him and my dad and all the others that have gone before me. I can't see the watch or know when my time is coming up. I know that this cancer is not playing nice. I have gone from cancer in the breast to lymph nodes, all bones, liver, lungs and now brain. How long do I have? I don't know, I am not a statistic.
---
About Holly: "I am a married, 40 year old mom, and I've had Stage IV breast cancer patient for 3 years now and still going. I have an 18 year old step son, 11 year old daughter and a 5 year old son. We live in Reading (Wyomissing) PA."
A note from Knot Telling: Holly died less than a month after this was published, on 7 November 2014. She was 40 years old.
Image copyright: ynmcreations / 123RF Stock Photo