Pushing Up Daisies by Tracy Willis
Project Occupy Pinktober begins today. Throughout the month of October 2014, I am bringing guest posts from people who have been touched by metastatic breast cancer. Breast cancer is not pink and fluffy; it is a killer disease. This is not about saving breasts; it's about saving lives. Thirty percent of everyone who gets breast cancer will develop metastasis. There is no cure. The goal of treatment is merely to prolong life and reduce suffering. We deserve better. Please like and share these posts to spread the word. Thank you, Knot Telling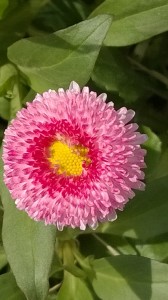 Gone to meet their maker, out of their misery, travelling a different path, pushing up daisies. Call it what you will but for goodness sake don't say dead.
Great-great grandmother – dead – age 45.
Great-great aunt – dead – age 47.
Great grandmother – dead – age 50.
Great aunt – dead – age 44.
Grandmother – dead – age 49.
Aunt – dead – age 50.
Mother – dead – age 46.
If you say dead and list the names it looks like the roll call on a war memorial. In fact it's worse because no epitaph contains so many members of the same family. These women, my family, did not go to war. They were placid, careful, peace-loving citizens quietly going about their lives and striving to raise their families. Children that many of them never saw grow up, get married, or have families of their own.
You see, each of these women developed breast cancer in their late 30's or early 40's. Each went through countless surgeries, treatments and indignities. Each thought they'd come through.
No-one made it.
Not one of them survived. . .
Metastatic breast cancer killed them all.
I knew two of these relatives, my aunt and my mother. The rest were long dead before I was a glint in anyone's eye, before my parents even met each other. Mum and Aunt Jen both developed breast cancer around the age of 40 and they both resolved to survive. They lived in different parts of the country but both had good surgeons, skilled oncologists and attentive nurses. None of that made any difference. They both developed metastatic breast cancer and within months they were both dead. Not a day goes by when I don't think of them, think of what they went through, wish they'd had that pink cancer – the one everyone survives – so they could still be here with me now. I cannot explain what coming from a family with a near 100% death rate from metastatic breast cancer feels like. A family that doesn't carry the BRCA genes. I can tell you breast cancer is not a "good" cancer, the "easy" cancer, or the one with "really excellent prospects thanks to more advanced treatments."  Just over two years ago at the age of 42 I was diagnosed with aggressive HER2+ breast cancer. There was nothing good or easy about it and my chemo regime was almost identical to the one my mother went through in 1994!
So you'll have to forgive me when I state, point blank, that pink is for Barbie NOT breast cancer and the only similarities between me and Barbie are our fake, nippleless breasts. I hope, want, need, to be the first in my family to buck the metastatic trend because without that hope I'd be lost. Breaking my family's hearts in the same way mine was broken in 1996 is a thought I can't begin to entertain. Only time will tell.
Breast cancer remains an unforgiving disease with unforgivable consequences. Those living with metastatic breast cancer, their loved ones and friends spend each day on the edge of the void. For them death is coming and breast cancer's true colour can only ever be black. Black as the void, as deep and dark and empty as furthest point in any possible universe.
Please stop pink ignorance.
Please start facing reality.
Metastatic breast cancer continues to kill far too many women across the globe.
---
About Tracy: "I'm 45, married, and Mom to a 21 year old son. By profession I'm a technologist, have always been a career woman and am now rebuilding my career following a HER2+ breast cancer diagnosis aged 42. I'm also rebuilding my stamina and mobility because Herceptin left my knee and ankle joints in very bad shape. I love cats (have seven of them, mainly rescued) and find solace in nature, photography, painting and drawing. I live in the countryside, work for a university and inherited a stubborn streak – probably just as well given family history. I blog about cancer and the trials it brings at www.fecthis.wordpress.com and potter about in www.theasymmetryofmatter.wordpress.com to escape through art."