Well-being without Being Well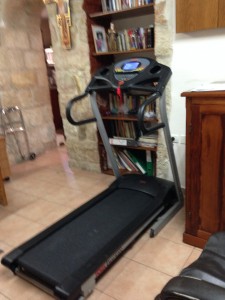 Meet Dorphina. Dorphina is a York Excel 40300 model treadmill and she has changed my life. Before Dorphina came into my life I was spending most of my time in bed propped up on pillows or on the chaise longue in the garden. I needed the walker pretty much all the time I moved around inside the house. I fell a lot and I suffered a lot from pain.
I knew that I needed some kind of movement and activity, if only for the strictly physical reasons that spending so much time in bed was an open invitation to hypostatic pneumonia, not to mention the possible formation of blood clots and other problems. At the same time, I could not be out and about without someone to accompany me because of my balance issues and I was worried about being out in public and catching a virus that wouldn't be much to an otherwise healthy person, but would wipe me out because of my impaired immune system. I used to have a stationary bicycle that I loved using, but I began to fall off it with some regularity so had to get rid of it. I decided to get a treadmill.
When Dorphina first came into my life, I could only stay on for two or three minutes at 1 kilometer per hour (about half a mile per hour). I would sweat profusely, have trouble getting a good breath, and start to feel panicky about falling. With difficulty, because I am very achievement oriented, I accepted my limitations and would just get on Dorphina several times a day, whenever I felt like it and for only as long as I could. No expectations.
Surprisingly quickly I was able to increase both speed and the length of my "workout". Within about a week I was up to 3 kph (almost 2 mph) for ten minutes at a time, and I had started to use the pre-programmed settings that increase and decrease the speed gradually or less gradually and at varying intervals. At a certain point in each workout, I would find myself giggling just because I felt so good!
This is a good spot to explain the name Dorphina for those who don't get it. I am a huge fan of endorphins, that wonder chemical produced by our own bodies. Endorphins reduce the perception of pain (analgesia), create a feel-good emotional state (euphoria), reduce anxiety (sedation) and may help moderate appetite. Endorphins, as I so often say, are our friends. The body produces endorphins when we exercise (among other things), and I do like my endorphin high, so it seemed only natural to name my treadmill Dorphina. See? Logical.
Before long, I noticed so many physical and emotional changes in myself. My balance improved. My stamina improved. My breathing became deeper, expanding my chest. My resting pulse started to decrease from its previously fairly high level. Emotionally, I began to have a general sense of well-being and I began to regain my self-confidence. My friend Leigha, who comes to help me several times a week, says that she began to notice the difference about two weeks after Dorphina came into my life. She says my outlook is brighter and I have a zeal for life that I didn't have before.
I have a big birthday coming up in March. (Sixty- which is utterly ridiculous to contemplate!) For the first time in a long time I feel pretty confident that I will see it.
My health status is basically the same. I still have pain (though I have been able to cut back on the narcotics a little when I don't overreach myself). The cancer is, presumably, still eating away at my bones. The difference is in how I am in myself, in my increased sense of well-being, even without being well.