And then they die.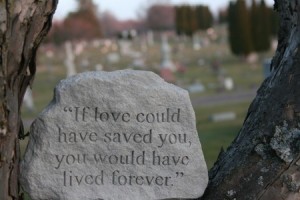 Liza Weeks Mayeske, a young mother of two little boys, died yesterday from metastatic breast cancer. It happened so fast. On June 19th she posted this on her public Facebook page:
I'm still on oxygen and bed and wheelchair ridden, but my tachycardia seems to have gotten a little better after my last treatment. My pulse is actually going under 100 when resting. I'm just so ready to find the chemo that will clear up these pleural effusions for good so that I can go off the oxygen and start leading a halfway normal life again. I miss just being able to hop in my car and take my kids places, even if it's just to the park or McDonald's… being stuck at home in the bed all the time is no fun at all.
Ten days later she died in the hospital. Based on the updates a friend of hers posted to our closed Facebook group, her last days were difficult. Cancer is cruel. She was in pain and had trouble breathing. I've chosen these simple words because I don't want to write "she was suffering and gasping for breath". I don't want to think about that reality.
The longer I am involved in the online community of people with metastatic breast cancer, the more friends I lose. You can become very close to people online, especially when you and they are living with a fatal disease. We live with it until we die from it.
Is there anything I can say that hasn't been said over and over again? We need a cure for metastatic breast cancer. We need to learn how to prevent breast cancer. We need to learn what causes breast cancer; only about five to ten percent of breast cancers are due to the BRCA 1 and BRCA 2 genetic mutations. We need to learn what makes it go metastatic in almost one-third of cases. The answers to these questions will put us on the road to a cure and even to prevention.
In the meantime, my friends and I will continue to live with this disease until we die from it. More and more men and women will join our ranks. More and more men and women will hear first "Yes, it is malignant," and then "It has spread, but we will treat it as long as we can; there are still things we can try," and finally, "We will do everything we can to keep you comfortable". Then they die. Let us honor their memory by advocating for research for prevention, research for a cure.
Rest in peace, Liza. We miss you.

Photo Copyright: devilpup / 123RF Stock Photo