Water
My neighbor Rafic from across the kitchen courtyard knocked on my back door, his arms filled with liter-and-a-half bottles of mineral water. "Rivka called. The water is contaminated, probably from sewage. She says not to use boiled water either; only bottled water for cleaning fruit and vegetables, tooth brushing, and drinking, even coffee. If it lasts more than a couple of days I'll bring you more bottles." Our friend Rivka is an infectious disease specialist and she has the inside scoop on this sort of thing before the media gets hold of it. Rafic is a good guy and acts more like a brother than a neighbor in so many ways.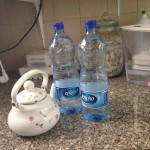 Being a very imperfect person, my first reaction was to think of the inconvenience. But really, how much will I be inconvenienced? Bottled water was brought to my door. If I want more I only have to ask for it. This is a temporary situation that won't last more than a couple of days.
I sponsor a little girl in Ethiopia through Save the Children. Tejitu lives in Dendi, an overwhelmingly rural area. The photo I received when I first started sponsoring her a couple of years ago shows a slim twelve year old with large, almond-shaped eyes. The information I received is that she attends school (Save the Children is running a literacy boost program there) and that her daily activity is fetching water.
Of course I've always known that many, many people in the world have to carry water for all their needs, but seeing Tejitu's photo and reading "fetching water" casually listed as a daily activity of this small-framed child really touched me. It got to me in a way that reading articles in the socially aware media never did.
Today I resented having to use bottled water for a couple of days. I'm awfully spoiled.
It's a "bad cancer day" and I'm not very strong at the moment. I have to use the walker to get around inside the house. Rafic noticed it when he brought me all that bottled water. I saw him glance at it and he looked sad. "No," I said, and I was just a little surprised that I meant it. "I'm lucky to have this walker, and to have a home to use it in, and a neighbor who's more like a brother to bring me water." We both smiled, and Rafic went back across the courtyard to his house.